Parish of Leatherhead - Old Friends - The Siddalls
(continuing from Old Friends)
In August 2004 Arthur took up his appointment as incumbent of Christ Church Naples, in particular serving the holiday and local english speaking community. If you are visiting you will be welcome at the 10am Sunday service or (apart from August) the 5pm Sunday English service in Sorrento Cathedral. Jenny is married and teaching Geography in Bexleyheath; Dr Mark Siddall is a leading oceanographer and researcher on climate change, now at the University of Berne.
Arthur was formally instituted as Chaplain of Naples on Sunday 24 October 2004 in Christ Church, Naples, by the Very Revd Alan Woods, Dean of Gibraltar. In a delightful service, led by Alan Woods and assisted by Canon David Eaton, Arthur was installed at Christ Church nearly three months after his first service there.
The photograph, by Jane Haslam, shows (from left to right) Revd Arthur Siddall, the Very Revd Alan Woods, Dean of Gibraltar; and Canon David Eaton, in the Chancel of Christ Church, Naples.

Amongst those attending the service were Arthur's wife, Susan, and David's wife, Ginny. Jane Haslam joined the choir for the occasion, which sang the specially composed Te Deum by the Composer in Residence, Jeanette Taylor Sciurba.
In the afternoon, following lunch in the church grounds, Arthur, Alan and David led the communion service at Sorrento Cathedral, which was reached by boat across the Bay of Naples. David, Ginny and Jane had a wonderful time in Naples, visiting Sorrento, Positano, Herculaneum and Naples itself. Sue and Arthur would be delighted to welcome any of their friends to Naples.
On Sunday 5th June 2005 the Bishop's letter announcing Arthur's appointment as Archdeacon of Italy and Malta was read in the churches he will now be responsible for. He will be officially installed at a service in Malta in September.

The Haslams were on hand to help the Christ Church congregation celebrate the news with Arthur and Sue.

right: The new Archdeacon installed, September 2005
source: Siddall
from the March 2007 magazine
News from Naples The Ven Arthur and Mrs Sue Siddall have a connection to Leatherhead going back to the early 90s. They lived at Windfield before going to work in the Blackburn Diocese and latterly at the Anglican Chaplaincy in Naples. Arthur has recently been appointed as Archdeacon of Italy and Malta. They had thought they might retire to Leatherhead but have decided to move north when the time comes, to be nearer Sue's family. They write: "We would like to convey to all at St Mary and St Nicholas and at All Saints our deepest thanks for their fellowship and encouragement since we arrived in 1990. Our children have thrived since then and maintain friendships and many friends in Leatherhead."
We wish Arthur and Sue every blessing and happiness and our thanks for their shared ministry in this parish. David Eaton
---
October 2007 - Arthur, who is Archdeacon of Switzerland, Italy and Malta in the Anglican Diocese of Europe, has been appointed Chaplain of St John the Evangelist, Montreux-Territet which also serves Anzere, Gstaad and Monthey.
In the December 2007 Leatherhead Parish magazine Joan Furze wrote of her connection with the Siddalls' new parish.
On completion of Arthur's service in the Diocese of Europe the Siddalls returned to the UK, settling in busy retirement in Formby.
1 May 2015: Susan Marilyn Siddall, wife of the Ven Arthur Siddall, who formerly served in this parish, died on 30th April 2015 aged 63. May she rest in peace. Arthur writes that Sue's funeral will be at noon at St Michael's, Whitewell, in the Forest of Bowland, on Tuesday 12th May. During 1996-2004 Arthur was Vicar of Chipping with Whitewell.
---
from the November 2018 magazine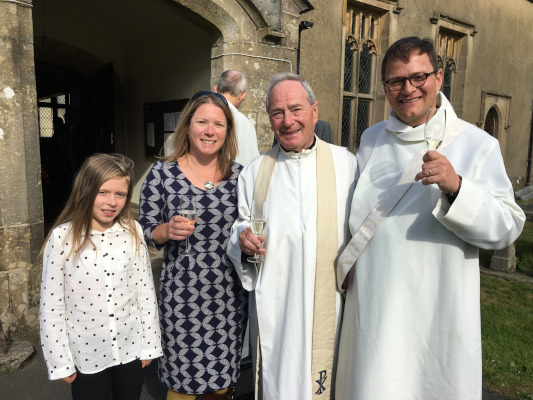 Members of the Siddall family who could be present
On Saturday 29th September 2018 there was a service at St Michael's, Whitewell in the Forest of Bowland on the occasion of the Golden Jubilee of the Ordination to the Priesthood of the Ven Arthur Siddall. Some of our congregation were present. Arthur was an Honorary Assistant Priest in our parish team from March 1991 to April 1996 and was particularly associated with All Saints. He went on to serve with distinction in the service of the church in Europe and at St Michael's. Sue, who died in 2015, worked with Surrey Social Services. Their children Mark and Jenny went to St. John's School. Mark is now a Deacon. May we give thanks for Arthur's ministry and the service of the Siddall family.
Frank Haslam - source of all images
The following additional images may be of interest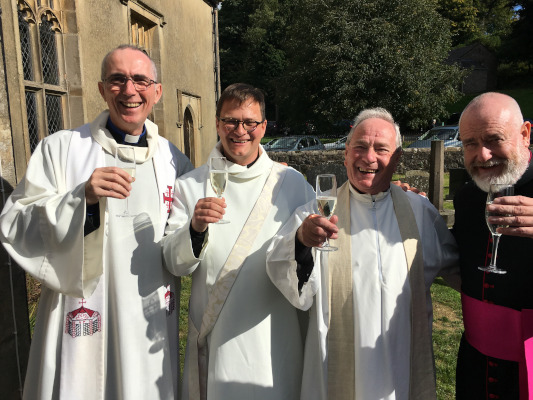 L-R: The Archdeacon of Blackburn, The Ven Mark Ireland, a former curate of Arthur's - Rev Dr Mark Siddall - Ven Arthur Siddall - Rev Canon Jonathan Boardman
Unfortunately the photographer did not manage to get one of the interim-Vicar of St Michael's, Rev Canon Roger Smith.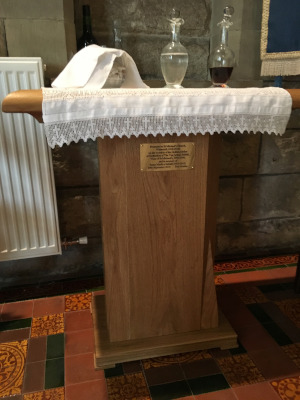 The Credence Table plaque says
"Presented to St Michael's Church,
Whitewell (1818-2018) on the occasion of the Golden Jubilee
of the Ordination of the Ven Arthur Siddall
Vicar of St Michael's, 1996-2004
and in memory of Susan Marilyn Siddall (1951-2015)
29th September 2018 Deo Gratias"
last updated 14 May 15: 4 Nov 18