GOODBYE
Rev Graham Osborneís last Sunday service was on 3rd October. The Harvest Supper in church the evening before evening included various presentations made to Graham and Nicky.




Harvest Supper, Saturday 2nd October 2021

We had all been asked to take a Lateral Flow Test in the 48 hours before the event as eating and drinking when wearing a mask could have proved messy. Tables were laid out in Church to accommodate a good turnout and many of those seeing the building for the first time since the reordering were heard to be duly impressed by the changes.

The Master of Ceremonies was Martin Cole, who ably directed the distribution and clearing away of the two courses and the programme for the evening. We remembered what we were celebrating, Harvest.

We were entertained by: singing and playing by Hedley Kay and his daughter Emily; by the music and singing groups; and stirred by a medley of Scottish tunes played on the bagpipes by John Swanson (or as Martin called him, MacSwanson).

John did a presentation on-screen of the photos of the ten incumbents before Graham, and then Ďunveiledí Grahamís photo specially taken to add to this ĎRogues Galleryí (well, that was the filename used for the PowerPoint presentation).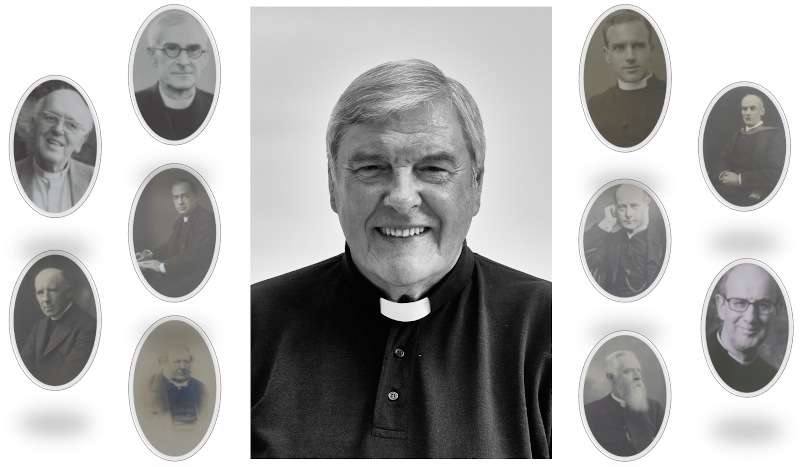 The evening ended with presentations of gifts to Graham and Nicky. These were from St Michaelís Mickleham (representatives from there could not be present as there was a clash with one of their own events) and from Leatherhead parishioners, including the specially compiled photo book of memories, flowers, a bottle of champagne and, in Grahamís words, incredibly generous cheques. Tributes were given by Anne Thomson and Linda Hauxwell.

MC - Martin Cole

Some of the Harvest Suppers
`
John 'MacSwanson'

Hedley and Emily

Singing group

and Musicians
Churchwarden Anne Thomson's tribute at the Harvest Supper




(I did not have this written but have now noted what I said). I had noticed that retiring churchwardens invariably said that it was an honour and a privilege to be invited to serve as churchwarden and that I felt the same, but in this case it was not me retiring but Graham.

I had worked closely with Graham throughout his 12 years of ministry in Leatherhead. When he arrived I had recently become PCC Secretary, and one of my first tasks was to present him with an Agenda and Chairman's Brief for his first PCC meeting a few days after his induction.I subsequently worked closely with Graham in compiling agendas and minutes of meetings.

A few years ago I was deeply honoured to be invited to stand for election as churchwarden. I have enjoyed my time as churchwarden hugely and I thanked Graham on behalf of the PCC for his inspiring ministry and leadership in the parish.




I then presented Graham with a card and gift voucher on behalf of Mickleham PCC (they were unable to attend due to a function in their own parish) and a generous cheque subscribed to by Leatherhead parishioners. Nicky commented that she would be able to buy a new surf-board!




Former Churchwarden Linda Hauxwell's tribute at the Harvest Supper


Graham and Nicky, itís been a privilege to work with you from the start of your ministry here. Youíll remember, Graham, that I was on the interview panel for your selection and you always stood out as the right person for the job. It was a joy to work with you as your Churchwarden, I learnt so much from you.

Thank you for listening to the Lordís calling on you to come here to Leatherhead and for staying here for 12 years to complete the work you were sent here to do. Itís been a challenging and exciting time with leaps forward as well as some set backs - but always having the sense of God blessing your work here - you have achieved so much. As youíve always said if God gives a vision, he gives the provision to do it and that has certainly happened here with the right resources being available just when they were needed. So many blessings.

You have given your all to us as a church family and have made an impact on the wider community here in Leatherhead. Youíve shown huge love and kindness and cared so deeply for everyone. Thank you.

Graham, thank you for your powerful ministry and leadership and your thought-provoking sermons which have taught us so much and empowered us to grow in faith.

Unlike the story where an embarrassed woman said to the vicar after a church service "I hope you didnít take it personally when my husband walked out of church during your sermoní. "I did find it rather disconcerting" the minister replied.
"Itís not a reflection on you at all, sir" the lady insisted, "Ralph has been walking in his sleep ever since he was a child."

Nicky and Graham, you have given us diversity in our worship - with your musical gifts and beautiful voices adding so much to parish life - itís always been a delight, Nicky, to stand near you during church services and to hear your singing. With all your gifts and qualities, which you shared so generously with us you are an amazing team. With your experience, care, empathy, perseverance, faith, prayer, belief, wisdom, love and grace and our underlying theme of Ďgrowing disciplesí YOU DID IT !!!

You slowly changed our culture and attitudes helping us to become a loving, welcoming and caring church family on a journey of faith together.
You helped us to discern what we wanted and what our new future could look like and to develop a road map along the journey of change. We had a vision to work towards and knew where we were going.

One aspect of course was the building project which we called MAKING HISTORY for the next 1000 years and as weíve said God blessed it and resources became available. Notably, John Andrews who became the project manager and has dedicated 5 years to working on it together with Ian and Bev Stonehouse and a dedicated project team including Chris Evans of the Friends of Leatherhead Parish Church. Many people came on board and helped by giving generous amounts of money and time.

Graham you directed us all with your wisdom and encouragement. Itís incredible to take in where we have come to now - standing in this wonderful church building. Change is never easy and we all react differently to change but you have guided us through this with great expertise and sensitivity.


A child psychologist wanted to observe how different children respond to negative circumstances. They filled a room with horse manure. Putting a pessimistic child in there they observed how he responded. Predictably he whined and cried and despaired that he was in a room full of smelly manure. They put an optimistic child in there and he started tearing around the room and digging through the manure with an excitement that baffled the onlookers. After a few moments of watching this, they asked him why he was so excited. He replied "With all this manure in the room thereís got to be a pony in here somewhere!!"

Thank you for engendering optimism in us and always believing in the vision. Thank you for serving us for 12 years. Nicky especially thank you for providing lots of fun events, for your generous hospitality and for your joyful laughter. I have so many personal memories (not to speak about now) but just to say that like many other people I have felt loved and supported by you as well as valued and appreciated and just knowing that you were there for me.

We shall miss you but wishing you lots of love and blessings on this new adventure in your life. I think itís going to be very exciting and the Lord seems to have put things in place for you already. Enjoy the sea breezes and beautiful Cornwall. And visits from your children and grandchildren. I canít resist one last little grandparent joke.

The little boy greeted his grandmother with a hug and said "Iím so happy to see you grandma! Now Daddy will do the trick he has been promising us." The grandmother was curious. "What trick is that darling?" she asked. The little boy replied "I heard Daddy tell Mummy that he would climb the walls if you came to visit us again."

We have some more gifts to give you with our love and thanks. (Bouquet for Nicky and Champagne for Graham)
Finally. we hope that this will give you some lovely memories to look back on (Photobook with photos, memories and good wishes)


| | |
| --- | --- |
| At the end of her tribute, Linda Hauxwell watches Graham open 'the book' parcel | Thank you |
---
HARVEST SUNDAY: 10.30am Communion Service, 3 October 2021
A well attended Harvest Sunday service at 10.30am allowed us to give full voice to familiar hymns. Nicky did the Intercessions, which moved us - and her. Grahamís sermon took us through the various plans for worship, discipleship, ministry and buildings during his 12 years with us. They left us with the message that we should carry on loving each other.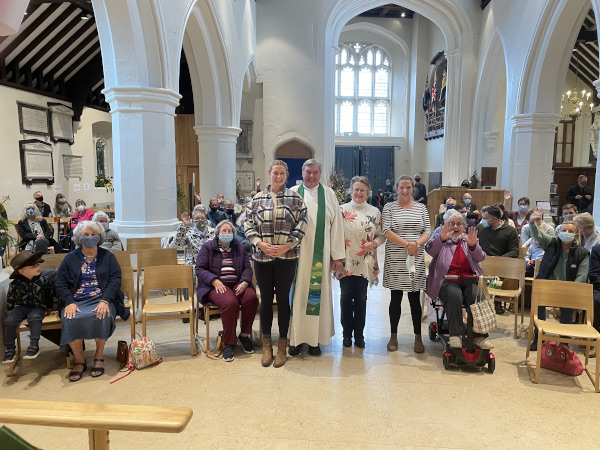 Taken before the service began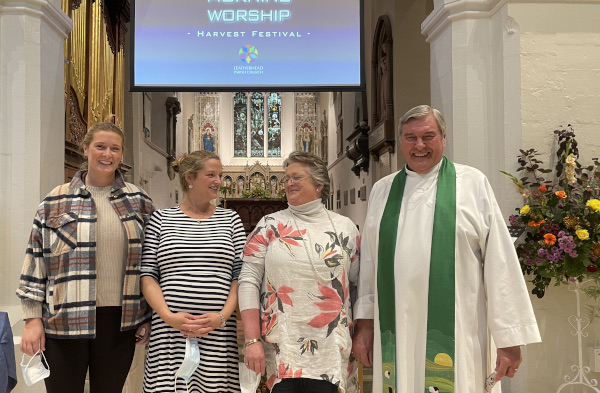 Two and a bit generations
Transcript of Graham's last Sermon of his Incumbency

May I speak in the name of the living God, Father, Son and Holy Spirit.
So we come to our house for Thanksgiving. And I've been pondering, given that this is my last Sunday with you, on what the harvest is that you will reap, from these twelve years we've had together. As St. John wrote, 'one sows and another reaps' [4:37]. Nicky and I have come to understand over the years that God calls us to places to break up hard ground. So we bring in the jackhammers, we bring in the bulldozers, we remove boulders, we clear the ground, we plough it, we harrow it, we sow seeds, we fertilise them, we water them, we nurture them. And if we're lucky, we see some green shoots.
As I said, I came here twelve years ago, and eleven years ago in the Spring of 2010, we collectively discerned what it was that God was calling us to be and to do in this place, at this time. Those of you who were with us remember we went over to the Hall, we had a major meeting where we discerned what it was that was God was laying on our hearts as the most important things that we should be focusing on. And the overall vision that we were given was Growing Disciples of Jesus Christ, Leatherhead Parish. Growing Disciples of Jesus Christ, not only growing ourselves, but also going out and growing new disciples.
And later that year, we actually described the Missional Church that we aspire to be. That was our New Future. Remember, after a few years, when we started thinking about what we would need to do, we had the Hand, we had our Vision, our Values in the middle: we had Inspirational Worship, Intentional Prayerfulness, Work with Children and Families, Engagement with the Community, and Buildings that would actually allow us to do what we need to do in the 21st Century and beyond. So instead of fighting the building, we could actually have it helping us to do what we need to do.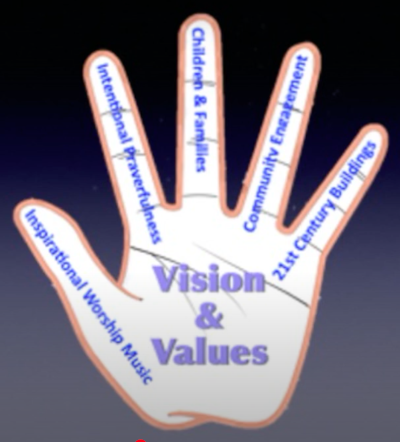 So we had that, and then we started thinking about what it would mean to do this building. And we then had the second Hand, the second part. No, this was the other Hand, Making History, which was all about getting the permissions to do what we wanted to do, getting the designs done, getting the funding together, getting the permissions. All those things which we did together. So we had our Vision, our Values and our Five Key Areas, The Mission, and what we needed to do to get our Making History project together. We had those two hands that we were focusing on.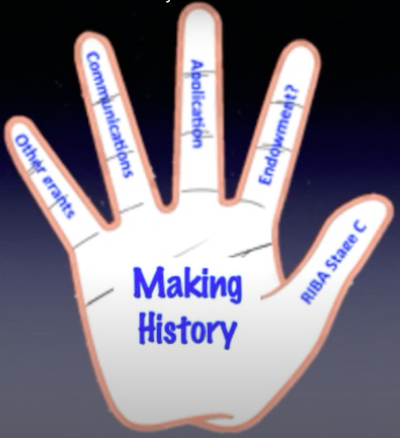 And then the Diocese, bless them, a year or so later decided they would create a new vision for the Diocese, which they called Transforming Church, Transforming Lives. And so at Harvest in 2016, we've defined that we would get four of those goals that we would adopt as our own. There were three key drivers to what we were trying to do. The first was aspirations to be a Missional Church. The second was the fact that we are missing, probably two entire generations, if not three. And the third is the need for buildings that actually help 'do church' in the 21st century. So those three drove into what we then called Vision 2020. And there are the four goals that we adopted from the Diocese, Making Disciples, Growing Children and Families Ministry, Cultivating Community Partnerships, and Updating our Buildings.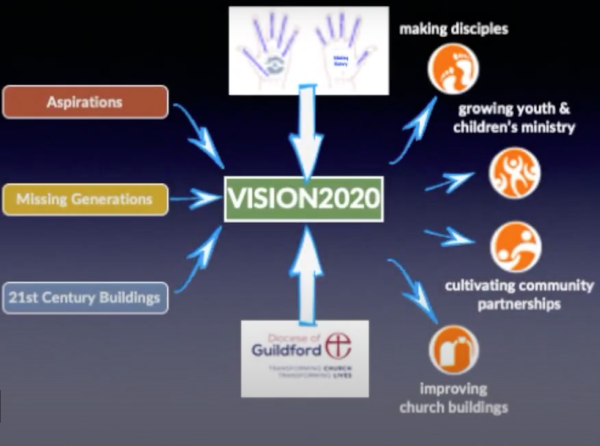 And we actually took the Hand and we went, right, okay, so let's do Worship, Discipleship, Children and Families, Community Engagement, and 21st Century Buildings, so we've still got the Hand, just about, and those have driven us through these last four or five years. We embarked on the Making History project and this is the end of our Phase 1 of that project, this building, this reordered, beautiful, warm, comfortable, flexible building, that's going to be a seven-day-a-week building, that the community we hope will readopt as their primary building. This isn't the end. This is the means to the end. The end is to be a Missional Church, going out into the world to undertake the Great Commission, Jesus's great commission to go out into the world and make disciples, baptise them and teach them. That's what we are about. So together, all of us have heard what God is calling us to be and to do.

We've established a firm foundation on which to build our Aspirational Church. And don't forget that God builds churches, we don't - actually sometimes we just have to get out of his way. But God builds churches. But we have to be committed to listening to what he is calling us to. Rick Warren is a great church growth leader in the States. He said "You never make it surf, but you have to recognise the wave and catch it." (I wonder if that's got anything to do with going to Cornwall?). But we don't build churches, God builds churches.

You have done something amazing in these last 12 years. So thank you, for all the blood and sweat and toil and tears thus far to get to where we are. And now Nicky and I leave you fully equipped to tend those green shoots and reap the harvest. And as Jesus said, on that first Last Supper, on Maundy Thursday that we celebrate, I give you a new commandment: love one another, be gentle with one another, be Christ-like to each other, nurture these green shots, these tender shoots that we are seeing grow: reap the harvest that God is bringing in here. And I just want to say, God be with you all, as you undertake that.
I just want to pick up a last sentence [6:33] in Matthew's Gospel that we read today: 'Seek first God's kingdom, and God's righteousness, and all these wonderful things will be given to you as well.'
Godspeed
Amen.
Part of Nicky Osborne's Intercessions
​A​s your ​C​hurch in this place begins a new chapter today I pray Lord ​that you flood it with your ​blessing and love and power and give everyone here the peace that belie​f ​in ​you brings​.

​G​ive your people here the joy that being a member of a loving caring church family brings​.
Give them the will and ability to constantly affirm and support each other​, the strength to challenge and resist negative behaviours or ​ill​ will​, and the knowledge that​ they are each and everyone loved and protected by you​.

​Visit this place ​O​ Lord we pray​,​ and drive from it the s​nares of the enemy​.
May your holy angels dwell with those who live here ​and g​uard them in peace.
And may your blessing be always upon them through Jesus Christ our Lord​.​ ​
A​men
Graham, just before the Blessing at the end of the service

Last night - the Harvest Supper - I hope you had the most wonderful evening because we did. Thank you again to everybody who worked so hard to make that possible. This wonderful flexible space looked amazing. We especially liked our bagpiper who Martin Cole christened John MacSwanson. So thank you all for that. Bless you. And I think we made a profit of something over £300 even though it wasn't a fundraiser but thank you all for your generosity. And thank you again to all who make it possible.
The Osborne family left us as we watched the
Churches UK Blessing
at the end of the service. We enjoyed the Prosecco they provided for us.
Message from Graham & Nicky
read out at services on 10th October 2021





Thank you all so much for the most wonderful final weekend.





Thank you, too, for the really moving photo book which gives us memories to treasure, and for the incredibly generous cheque which we will have huge fun spending on our new home.





With much love


Graham and Nicky


photo on the front cover of the book